Spiros Taverna 97 is a small family-run place established in 1974.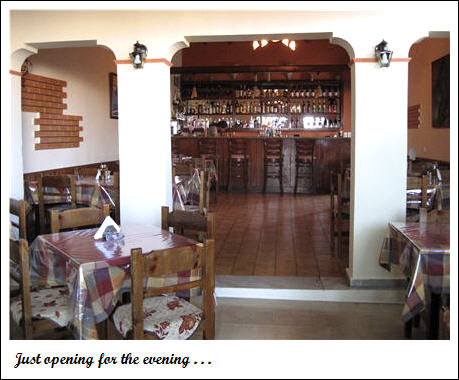 The kitchen is based on Corfiot and Greek traditional recipes. Mousaka, sofrito, stiffado, briam and pastitsado are just some of the dishes available on a regular basis. The taverna has a very special atmosphere, whether spending lazy July evenings drinking cold beer under the vine on the roof terrace or partying inside on a busy May night, the place alive with locals and visitors, many of whom have been coming for years and wonder if it is their second home.


Maria and her mother Irini run the taverna and kitchen, helped by Maria's brother Spiros, father Alex and aunt Despina. Grandmother Maria keeps a watchful eye over the kitchen! Enjoy fresh caught fish (usually once a week); homemade taramasalata; saganaki; chicken or lamb in the oven; a bowl full of horiatiki (Greek salad); souvlaki and lamb chops from the grill; and of course lashings of tsatsiki! The cocktail 'Kristalia' was invented here — and watch out for Despina's B52s …!




Please visit our Facebook page for loads of photos.

This actually runs contrary to the logic the luxury Swiss watch industry has been applying for years, that the high-end of the market is the most stable because rich people more replica cartier or less stay rich. Many brands applied the notion that the ultra-rich are less price-sensitive as well as less sensitive to market fluctuations. What they did as a result of this replica rolex logic was to more or less abandon lower-priced luxury watches and shoot for the sky with extremely expensive timepieces, aimed at what they hoped was a class of wealthy consumers that would be less likely to restrict purchases during a market downturn. In my opinion, this flawed logic backfired, as it is a strategy only omega replica sustainable by a select assortment of very well-positioned high-end brands who invest both in product and marketing equally. With that said, the appeal of a gold watch as a luxury status symbol hasn't gone away. The visceral feeling of wearing a gold timepiece is no less real, and the ability to feel "one's worth" by wearing a swiss replica watches precious metal-cased timepiece as opposed to one produced in a more common metal continues to appeal to luxury consumers. So why, then, are gold watch sales so incredibly down?